OnColor™ RC Environmental Black Color Concentrate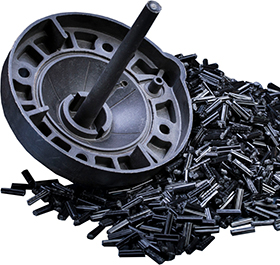 Our OnColor™ RC Environmental Black color concentrate offers a way to reduce environmental impact. When compared to a color concentrate made using traditional carbon black, this concentrate is made with a recovered carbon black that uses less energy and water, and generates less CO2e during the manufacturing process.
Formulated from carbon black that's been recovered from waste tires, OnColor RC Environmental Black is a sustainable solution for a wide variety of applications.
Highlights
Available for multiple resins and custom solutions
Passes REACH and RoHS requirements
Enhances sustainable product offerings
Maintains performance of traditional carbon black
---
OnColor™ RC Environmental Black Color Concentrate
PRODUCT NO.
NAME / RESIN
CC1028XXXXWE
ENVIRONMENTAL BLACK PE
CC10284887X0
ENVIRONMENTAL BLACK TPU
CC10287020WE
ENVIRONMENTAL BLACK PC
CC10287026WE
ENVIRONMENTAL BLACK PS
CC10287028WE
ENVIRONMENTAL BLACK PP
CC10287033WE
ENVIRONMENTAL BLACK ABS
| 名称 | 类别 | 描述 | |
| --- | --- | --- | --- |
| Color and Additives Solutions Overview | BU概况 | Customized color and additive solutions | 视图 |
| OnColor™ RC Environmental Black Color Concentrate | 产品公告 | Product description, value solution, key characteristics, markets and applications of OnColor™ RC Environmental Black Color Concentrate | 视图 |