Smartbatch™ Fabric FX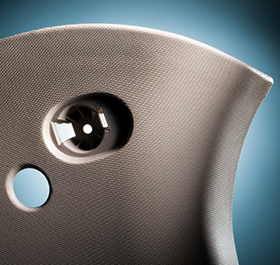 Smartbatch™ Fabric FX color and additive concentrates help manufacturers design and manufacture attractive parts that appear to be covered with fabric, but without the hassle and cost of applying textiles.
The addition of fabric to a thermoplastic part can help to increase its appeal, partly because the fabric softens the look and feel of the surface. However, the application of fabric also adds significant cost and processing complexity. In addition, because it is difficult to bond textiles to parts with intricate curves and shapes, the application of fabric can limit design options and increase scrap rates. 
Fabric FX concentrates can greatly simplify the manufacturing process, producing an attractive part with the appearance of fabric, but much easier to clean. Molds can be textured to resemble any number of textile surfaces and effects.
Fabric FX is an excellent choice for automotive interior parts, furniture, and other applications where the look and feel of fabric is desirable.
Benefits of Fabric FX materials include:
Attractive surface appearance without textile application
Standard injection molding (no secondary processes required)
Low-scrap manufacturing
Simplified logistics
Improved durability - parts are easy to clean
APPLICATIONS
Fabric FX masterbatch can be incorporated into many types of polymers, including ABS and PC/ABS. Fabric graining and color can be tailored to maximize color harmony with the rest of an application.
Potential automotive applications include A-, B- and C-pillars, door panels, and other interior parts. Furniture panels, personal electronic devices, toys, clothing and other applications may also benefit from Fabric FX additives.